The SMP Process
Step 1 Free Consultation
Fill in your enquiry form to book your free, no-obligation consultation in our Sydney, Melbourne or Perth studios, and sit down for a one-on-one with our highly skilled artists to discuss your desired outcomes, pricing and sessions. For your convenience, phone and video consultations are also available.
Step 2 SMP Treatments
Most clients require 2-4 sessions, with 7-14 days between to allow for your scalp to fully heal. Each session will be anywhere from 1 to 3 hours in duration. There will be some post-treatment redness after each session, and some aftercare as well which your artist will run through with you, but other than that, you are free to go back to your normal activities. And rest assured, your SMP looks very presentable after each session.
Step 3 Confidence Restored
Following your final session, Foli Sim offers a 12-month guarantee so if you should require a touch-up during this time it will be free of charge. SMP by Foli Sim is considered permanent however touch-ups may be required in 3-5 years, especially if you should experience further hair loss. Take a read of our amazing Testimonials to hear from past clients.
Welcome to Foli Sim
As Australia's leading provider of Scalp Micropigmentation (SMP), also known as a Hair Tattoo, Foli Sim SMP is proud to have built a team of some of the world's most skilled practitioners.
With studios in Sydney, Melbourne and Perth, Foli Sim is the obvious choice for world-class Scalp Micropigmentation treatments for both men and women.
Why Foli Sim?
Delivering exceptional scalp micropigmentation (SMP) since 2011
Health department certified and approved studios
Award winning, internationally renowned artists
All of our artists are certified with industry-standard infection control certification
Medical-grade equipment and specialised pigment designed for SMP
12 month guarantee on all completed treatments
Private treatment rooms
Fully insured
Life Changing Results
Before & After
SMP for men before and after result
on a satisfied client.
Before & After
SMP for men before and after result
on a satisfied client.
Before & After
SMP for men before and after result
on a satisfied client.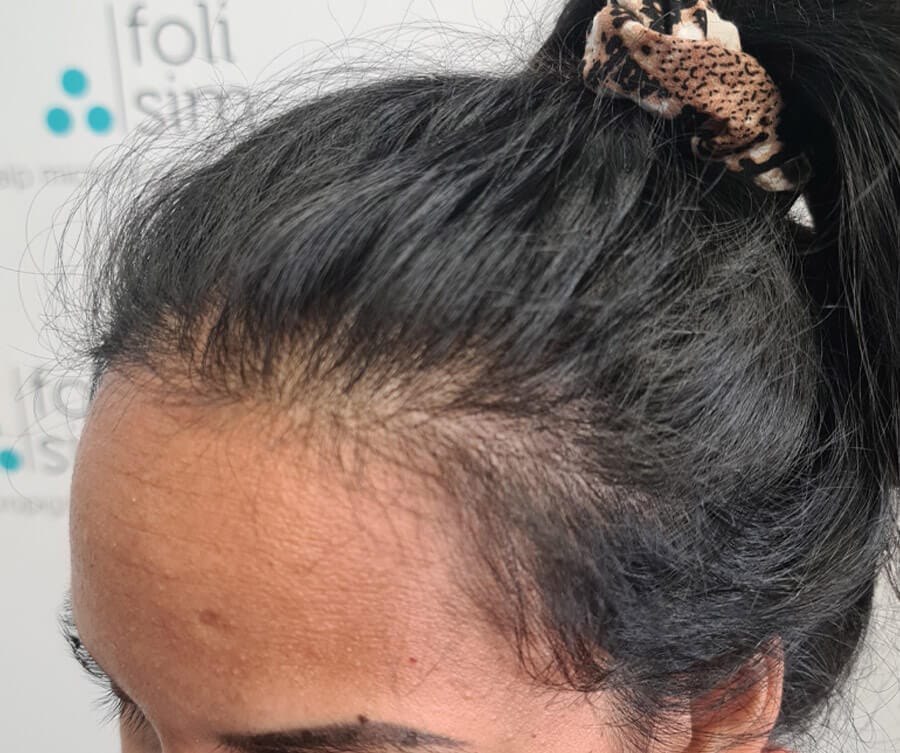 Before & After
SMP for women before and after result
on a satisfied client.
Before & After
SMP for women before and after result
on a satisfied client.
Before & After
SMP for women before and after result
on a satisfied client.
What Can SMP Help You With?
Scalp Micropigmentation is a non-surgical, non-invasive treatment for men and women experiencing varying levels of hair loss.
Whether you are looking to recreate your hairline, add greater density to existing hair, camouflage scarring, or create a close-shaven buzz cut look, SMP can help you achieve your desired result with minimal pain experienced.
Buzz-Cut
The Foli Sim SMP / Hair Tattoo method can create an undetectable illusion of an all over clean-shaven / buzz-cut look, perfect for combating thinned out, receding hairlines, or for those suffering with various types of alopecia. This solution is ideal for men and women and can help you to regain the confidence lost with hair loss.
View Gallery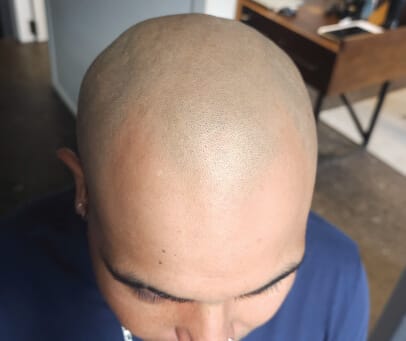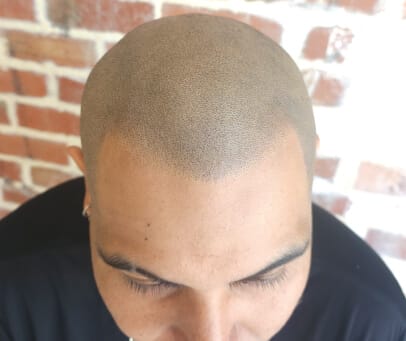 Thinning Hair
SMP can be utilised by men and women to add extra density to an existing hairline, giving the appearance of a natural-looking thicker, more luscious hairstyle. Adding density is a great way to combat a thinning head of hair and the best part is, should you experience further hair loss in the future, your SMP artist can always increase the coverage when required.
View Gallery
Scar Treatments
Concealing scars on the scalp with SMP is a common procedure that can reduce the visual appearance of the scar and restore your confidence and self-esteem.
View Gallery
Begin Your Journey Today!
Book a Free Consultation
Scalp Micropigmentation (SMP) should be an attainable hair loss solution for both men and women with all levels of hair loss. That's why we are happy to offer a free, no-obligation in-person, phone or video consultation.
During your private consultation, one of our experts will explain the Scalp Micropigmentation process, recommend the number of sessions needed to reach your desired result, answer any questions you have and provide a tailored quote to suit your requirements. Simply fill out the form and hit send!
If you would just like some information and a price at this stage, please give us a brief description, we can see how we can help and send you a quote.

See what some of our happy clients have to say
Michael and Kate are a pleasure to deal with.Michael for the bookings and discussing any questions over the phone and Kate is absolutely just awesome!! She knows what she's doing, she's very qualified and she's fun to be around.Infact all the staff there are great! I'm super happy with the outcome I feel so confident now I look great I get amazing comments from friends and others that don't know me have no idea and can't believe it when / if I tell them what I have had done! This is a life changing experience and I believe you can't put a price on it! Do what you need to do to feel confident, happy, comfortable and go LIVE we without the burden of receding hair lines or baldness! Be youthful be young he happy! 🙂 it's only a few needles away hehe
I was initially impressed with their website which was a great for me not knowing anything about SMP. After following through with an initial consultation with Omar and then going ahead with the procedure I couldn't be happier. Omar made sure to explain the process end to end, took his time in making sure I was comfortable with it all and most importantly his work is amazing, you can tell he is very passionate about his work. If you a considering getting this done get in contact with Omar!
Very highly recommended! Nat continued from the first session started by Kelly in Melbourne and after now just completing the last I can say that I wish I had this done 10 years ago! Nat is extremely skilled and professional to deal with. I feel and look 10 years younger...thanks to the whole FoliSim team!!!
Meet Your Team
Specialists in SMP
All The Latest Foli Sim News
Are you among the countless individuals seeking solutions for hair loss? The ...

Male pattern baldness, also known as androgenetic alopecia, is the most common ...

Scalp Micropigmentation (SMP) is revolutionising the way we address hair loss. Once ...