Welcome to Foli Sim Sydney
Foli Sim specialises in providing custom scalp micropigmentation services to treat hair loss, thinning hair, and scarring. Our approach to SMP is highly personalised and precise, delivered by top industry experts. When you choose Foli Sim Sydney, you get high quality, natural results, tailored to you.
Our Sydney studio is located within The Bay Medispa in the picturesque harbourside Double Bay. Our SMP Sydney services are led by our senior practitioner Natalie Marie who has over ten years of expertise providing scalp micropigmentation for both male and female clients experiencing various degrees of hair loss.
Life Changing Results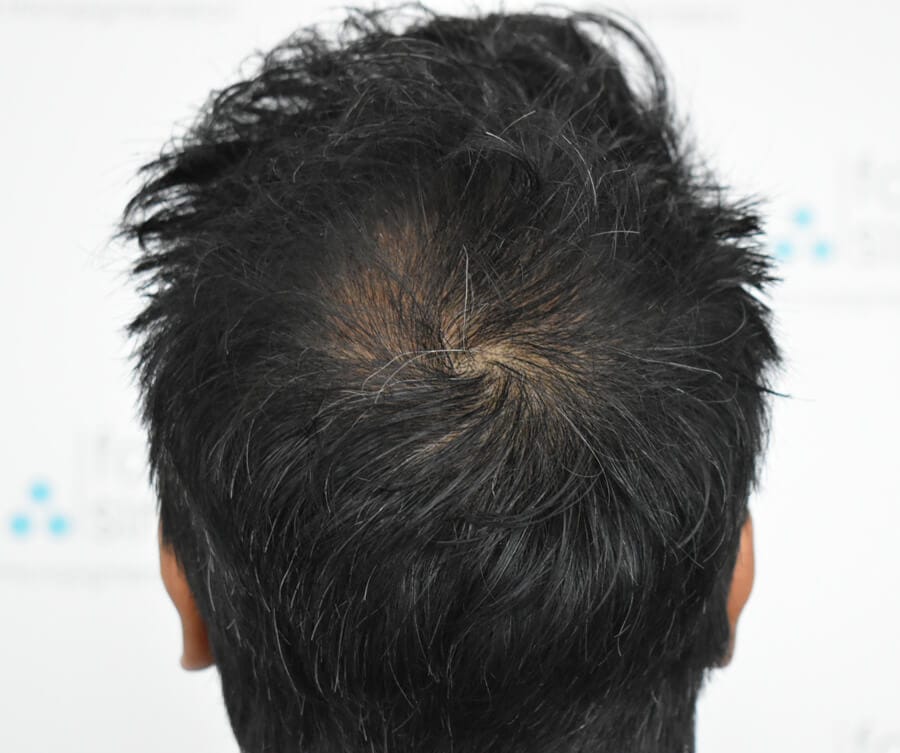 Before & After
SMP for men before and after result
on a satisfied client.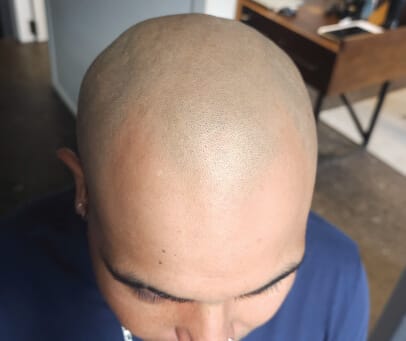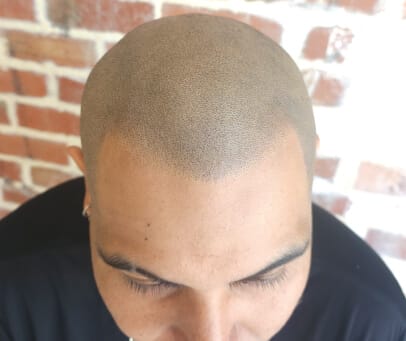 Before & After
SMP for men before and after result
on a satisfied client.
Before & After
SMP for men before and after result
on a satisfied client.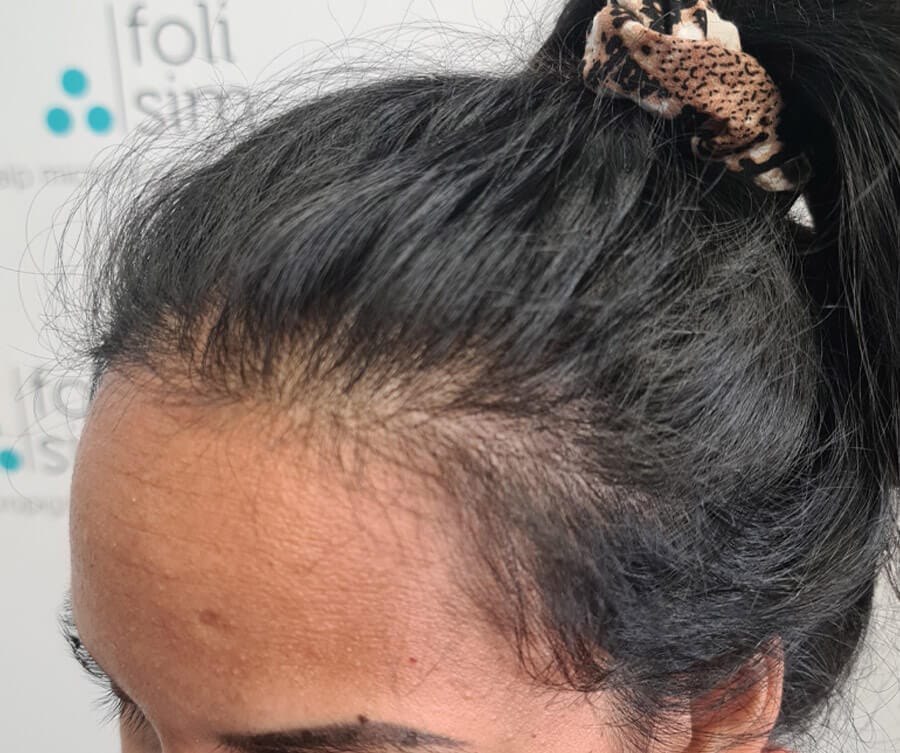 Before & After
SMP for women before and after result
on a satisfied client.
Before & After
SMP for women before and after result
on a satisfied client.
Before & After
SMP for women before and after result
on a satisfied client.
Why Foli Sim?
Offering high-quality scalp micropigmentation (SMP) services since 2011
All of our studios are health department certified and approved
Our SMP artists are international recognised through numerous awards
Each of our artists have industry-standard infection control certifications
Certified and qualified in-clinic trichologist
Our team uses medical-grade equipment and specially crafted SMP pigments
We provide a 12-month guarantee on all completed treatments
Enjoy your treatments in dedicated private rooms
Fully insured studio
What is
Scalp Micropigmentation (SMP)?
Scalp micropigmentation (also known as SMP) is a form of hair tattoo that uses precise needleheads to replicate the appearance of natural hair follicles. It provides the look of a buzzcut look for those with complete hair loss, or fuller hair volume for those with a receding hairline, or patchy, thinning hair. SMP provides a natural, long-lasting, and effective solution for those who want an alternative to hair transplants or other invasive hair restoration methods.
Book a Free Consultation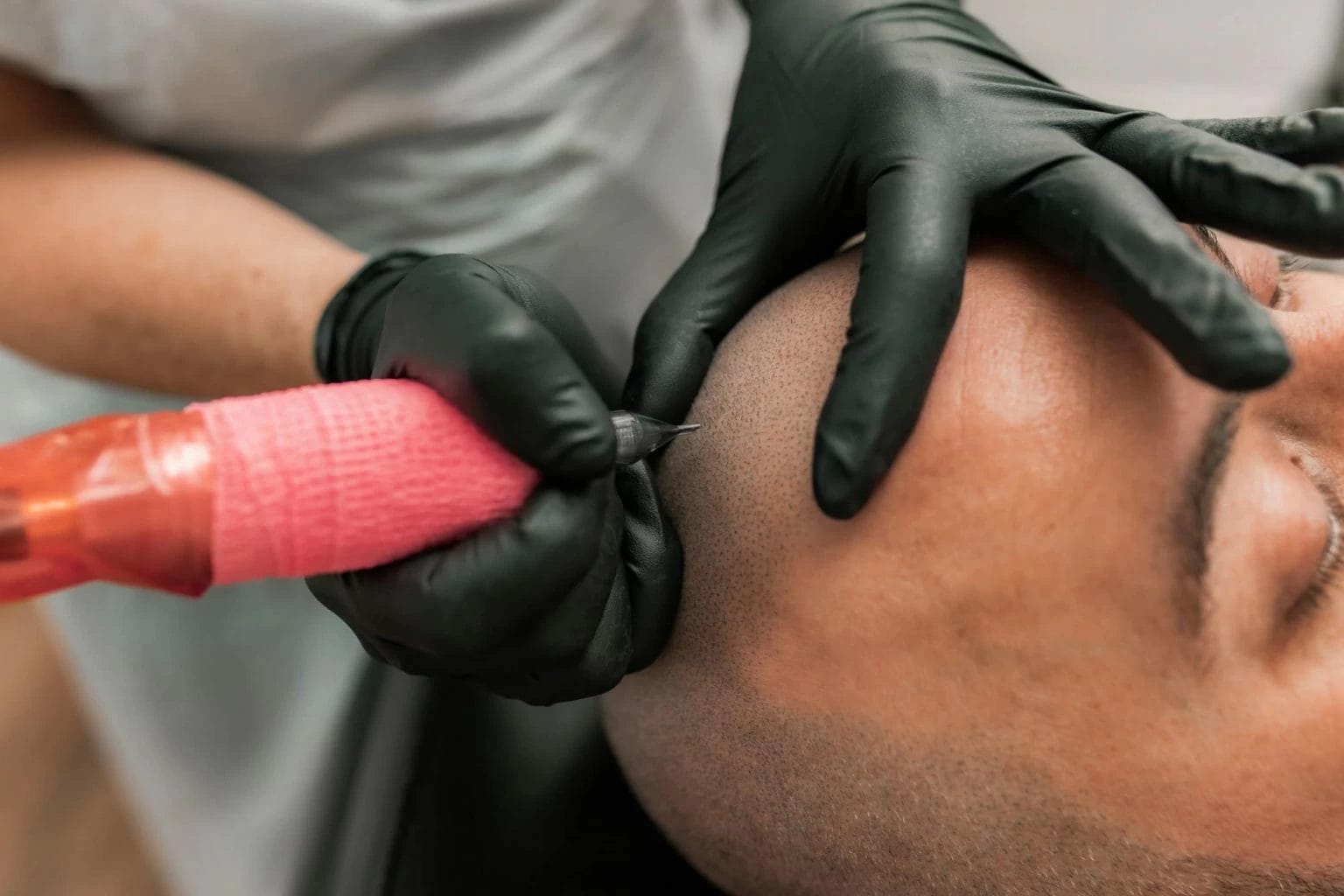 Who Qualifies For Scalp Micropigmentation?
Hair loss and thinning hair is something experienced by a large percentage of the population – about 80% of males and 50% of females. Apart from the physical impact of hair loss, it can also impact a person's self esteem and confidence. Scalp micropigmentation is a less invasive, yet still permanent solution for varying degrees of hair loss including;
Male pattern baldness
Female pattern baldness
Various levels of alopecia
Fine, patchy, or thinning hair
Scalp scarring due to injury or surgery (includes FUE/FUT scarring, strip scarring, plug scarring, alopecia scarring or accident scarring)
Scalp birthmarks
SMP can also be used after a hair transplant to enhance the results
Book a Free Consultation
Get to know scalp micropigmentation
Does Scalp Micropigmentation Stimulate Hair Growth?
No. Scalp micropigmentation (SMP) is not a hair loss treatment but rather a hair loss solution. The procedure effectively creates the appearance of fuller hair using a specialised microneedle to deposit tiny, layered dots of pigment that blend perfectly with any existing hair.
SMP does not stimulate hair growth or alter hair growth in any way. However, it creates the impression of new growth and resembles short stubble hair. It's virtually unnoticeable when done well, which means only you and your SMP artist will know your hair "growth" isn't actual hair.
Is Scalp Micropigmentation Painful?
The intensity of your hair tattooing experience depends on many factors including your pain threshold. Temples and areas of scar tissue tend to be the most sensitive areas, but most clients say they felt little to no real discomfort through the process.
Is Scalp Micropigmentation Limited To Shaved Heads?
There's not one answer for this, as it depends on a few factors. When it comes to men with advanced hair loss, we generally suggest cropping the remaining hair down so the SMP will blend effectively with their remaining hair. However, from a stylistic point of view, shaving your head isn't necessary if you are experiencing a milder form of thinning and only looking to add the appearance of greater density and fullness to your existing hair. We can work in between your natural hair; this also applies to women. How you style your existing hair in combination with your hair tattoo is ultimately up to you, but scalp micropigmentation looks best when paired with a hairstyle that compliments it.
For some individuals, a 'Buzz-cut' (5 o'clock shadow) may be the most natural-looking solution, especially if your hair loss is severe with more significant balding. Another example would be hair loss concentrated on top of your head and crown, combined with a receding hairline. Obviously, leaving length on the sides wouldn't look very natural. Whatever the case, your SMP artist will advise you of your options and what will provide the most natural-looking result.
Costs Associated With Scalp Micropigmentation
The procedure's overall cost depends on your hair loss pattern, the size of the scalp area that requires treatment, the presence of scars, and the number of sessions needed. In most cases, 2-4 sessions are necessary, with a 7-14 day gap recommended in between. Density is built in the first two sessions of your scalp tattoo, while the third session completes the feathering, blending and definition aspect. As leaders of scalp micropigmentation here in Australia, we charge reasonable rates for incredibly natural, long-lasting results. Here is a guide on what you may expect to pay at our clinic in Sydney *(please note this is just an estimate, and final pricing will be determined at your in-person consultation):
Mild hair loss: $500-$1200
Medium hair loss: $1200-$2200
Advanced hair loss: $2200-$3500
Why Choose SMP As a Hair Loss Solution?
Scalp micropigmentation is a far less invasive hair loss treatment in comparison to a hair transplant. Here are some of the advantages of choosing SMP:
Safe and Minimally-Invasive
Unlike hair transplant surgery and other hair loss treatments that can be invasive and come with possible side effects, SMP is a low-risk procedure that requires no downtime. When performed by a highly skilled hair tattoo artist, there's no risk of scarring, infection, or other post-procedure complications.
Easy to Maintain
Scalp micropigmentation is a long-lasting solution for hair loss that doesn't require expensive maintenance or products, unlike other hair restoration methods. Hair tattoos may lighten over time but should not discolour or require any special treatment. Touch-ups may be needed every two to five years, depending on further hair loss and sun exposure.
Budget Friendly
Hair tattoo Sydney is generally less expensive than traditional hair restoration treatments, even with the cost of touch-up sessions factored in.
Why Foli Sim Sydney?
Our beautiful Double Bay studio is the premier location for industry-leading scalp micropigmentation services in Sydney. Our SMP Sydney team consists of a team of highly skilled professionals who take a personalised approach to providing SMP solutions for our patients. We are known for our natural, seamless results, and client satisfaction is our utmost priority.
In May 2021, Foli Sim moved to The Bay Medispa to accommodate our growing number of clients seeking scalp micropigmentation services in Sydney. The success of this innovative hair loss solution has been remarkable, and we're thrilled to operate in a more prominent clinic in Sydney. Our new location is just a short walk from Edgecliff Station and Double Bay Wharf, making it convenient for our clients to find us.
Our Sydney clinic, like all of our SMP clinics, is certified by the Australian Health Department. We only use medical-grade equipment in sterile treatment rooms to ensure our clients' safety and comfort. Client well-being is always our top priority.
Book a Free Consultation
Natalie Marie


SMP Artist

With over ten years of experience in scalp micropigmentation under her belt, our senior technician, Natalie, has paved the way for innovative hair loss solutions. She comes to our studio in Sydney from London, where she was head technician and trainer for a leading international SMP company.

Natalie is renowned for her industry-leading work in Follicular Unit Extraction (FUE) and Follicular Unit Transplantation (FUT) scar camouflage, density work, hairline design, and natural, soft-shaven (buzz-cut) looks. Most importantly, she deeply understands the nuanced symptoms of hair loss and thinning. As the senior technician at our Double Bay studio, Nat has helped countless men and women experience exceptional results with her skillful approach to hair tattoos. We promise you're in good hands with her attention to detail and thoroughness.
Book a Phone Or Video Consultation
We offer free in-person, phone, and video consultations for scalp micropigmentation to ensure accessibility for everyone. During the consultation, our SMP artists will assess your eligibility, provide treatment details, and address your questions privately. We provide a 12-month guarantee starting from your third session. Book your consultation with Foli Sim Sydney by clicking here, and we'll contact you within 24 hours.
Book a Free Consultation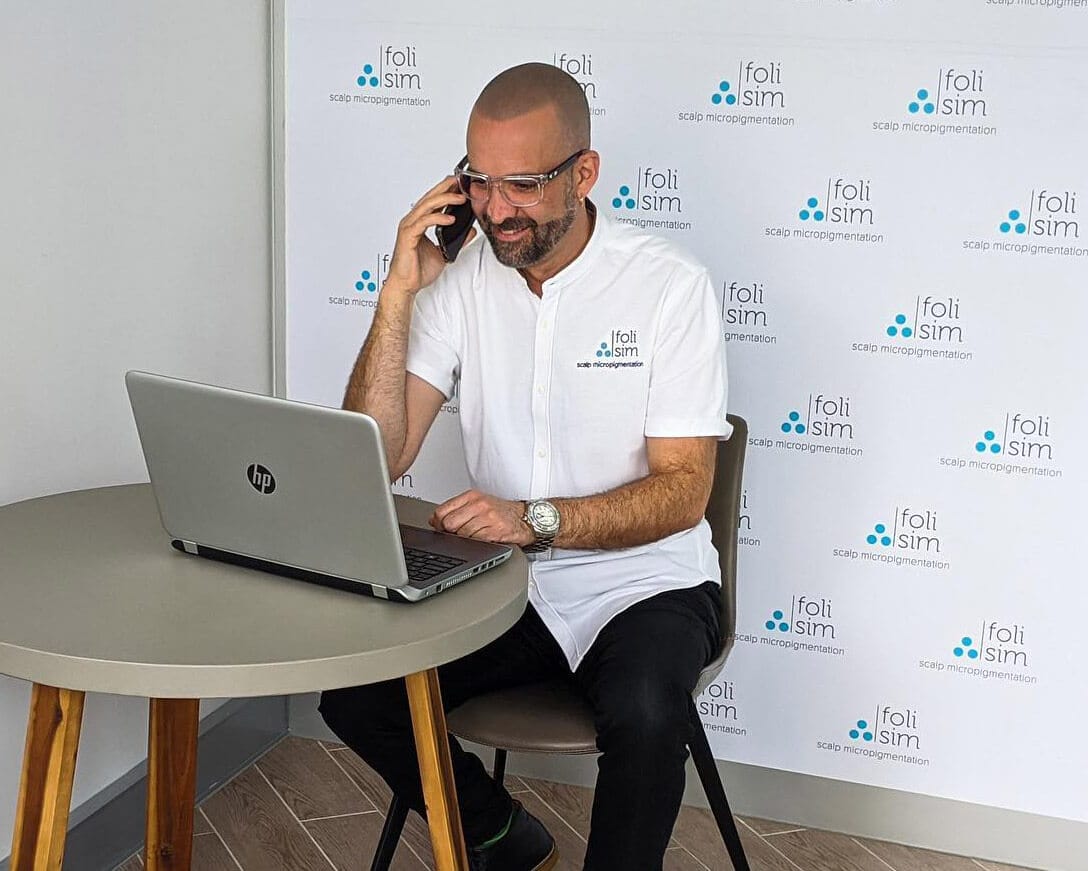 Flexible Payment Plans Available
We have partnered with ZipMoney to provide interest-free financing for six months on our services. To find out more about our payment plans, please feel free to reach us at 1300 668 490 or via our Contact Us page.