Scalp Micropigmentation (also known as a hair tattoo) involves the application of a specialised pigment onto the scalp with a microneedle, mimicking the appearance of natural hair follicles. When performed by an experienced SMP artist, it appears natural and complements the tone of your skin and remaining hair.
What are the benefits of Scalp Micropigmentation?
Scalp Micropigmentation offers numerous benefits for individuals experiencing hair loss, including:
Non-invasive: SMP is a non-surgical procedure that does not require any incisions or extractions, making it a less invasive alternative to traditional hair transplant procedures.
Immediate results: Unlike other hair loss treatments, you get instant results that are visible immediately after the treatment.
Low maintenance: This treatment requires minimal upkeep and does not demand any specific lifestyle changes or expensive products to maintain the look.
Customisable: Scalp Micropigmentation can be tailored to match the individual's unique hair colour, skin tone, and hair loss pattern, resulting in natural-looking and seamless results.
Long-lasting: Results can last for years and require only occasional touch-ups to maintain the look.
Versatile: Addresses a variety of hair loss concerns, including receding hairlines, bald spots, thinning hair, and scarring.
Boosts confidence: A hair tattoo can help to restore confidence by giving individuals the appearance of thicker hair that naturally complements their features, and enhances their overall appearance.
Who is eligible for Scalp Micropigmentation?
SMP is a versatile solution that caters to both men and women experiencing varying degrees of hair loss. Scalp Micropigmentation is the ultimate remedy for restoring receding hairlines, concealing bald or thinning spots, masking scars, and increasing hairline density. It is a non-surgical and non-invasive hair tattooing technique, which can enhance your confidence with the restored appearance of a full, natural-looking head of hair.
How do you best maintain Scalp Micropigmentation?
It's important to protect your hair tattoo from the sun's harmful UV rays. While the pigment is resilient, exposure to excessive sunlight can cause fading, which can compromise the natural look of your treatment. For this reason, we recommend taking precautions, such as wearing a hat and using sunscreen on high UV days, to ensure your pigment stays vibrant and beautiful for years to come.
While this is a long-lasting treatment, some individuals may require touch-up sessions as their degree of hair loss progresses over time. However, the beauty of SMP is that it can easily be adapted to your changing hair loss pattern and to blend in seamlessly with your remaining hair, ensuring that your results remain consistent and natural-looking. You can enjoy life-changing results that boost your confidence and enhance your overall appearance.
Life Changing Results
Before & After
SMP buzz-cut by Foli Sim to create the look of a full head of hair again.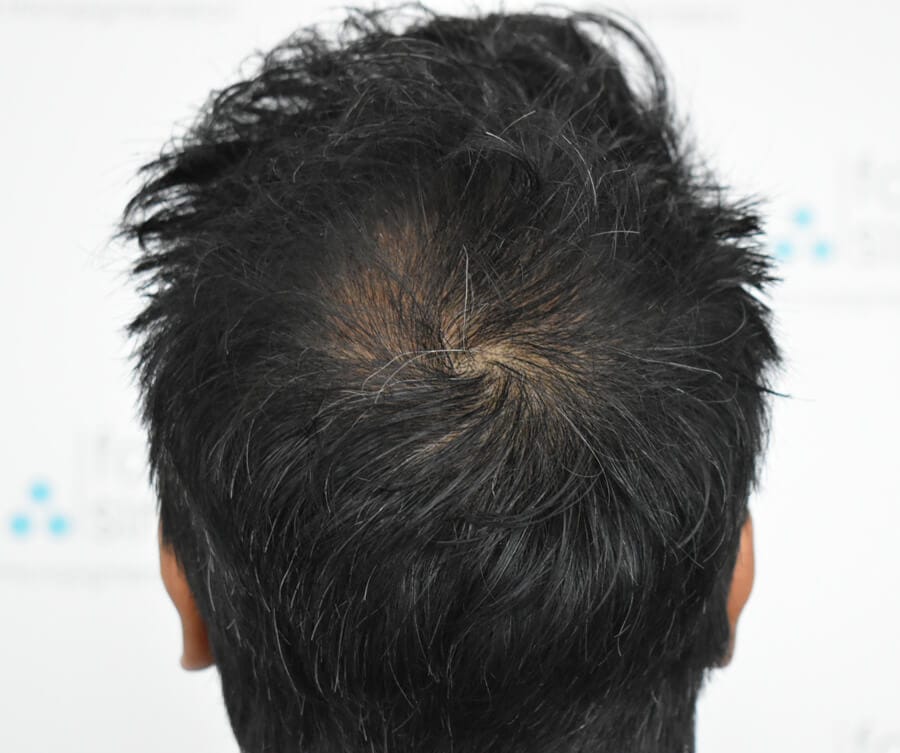 Before & After
Foli Sim SMP can reduce the appearance of thinning hair.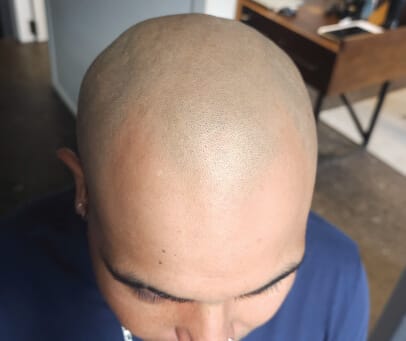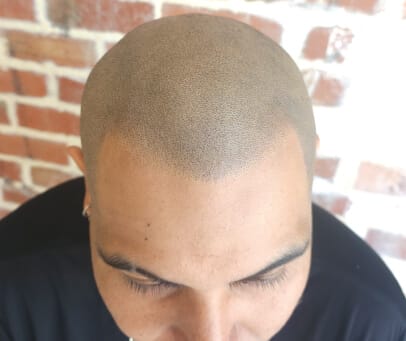 Before & After
Before and after images showing how SMP can recreate a natural looking hairline.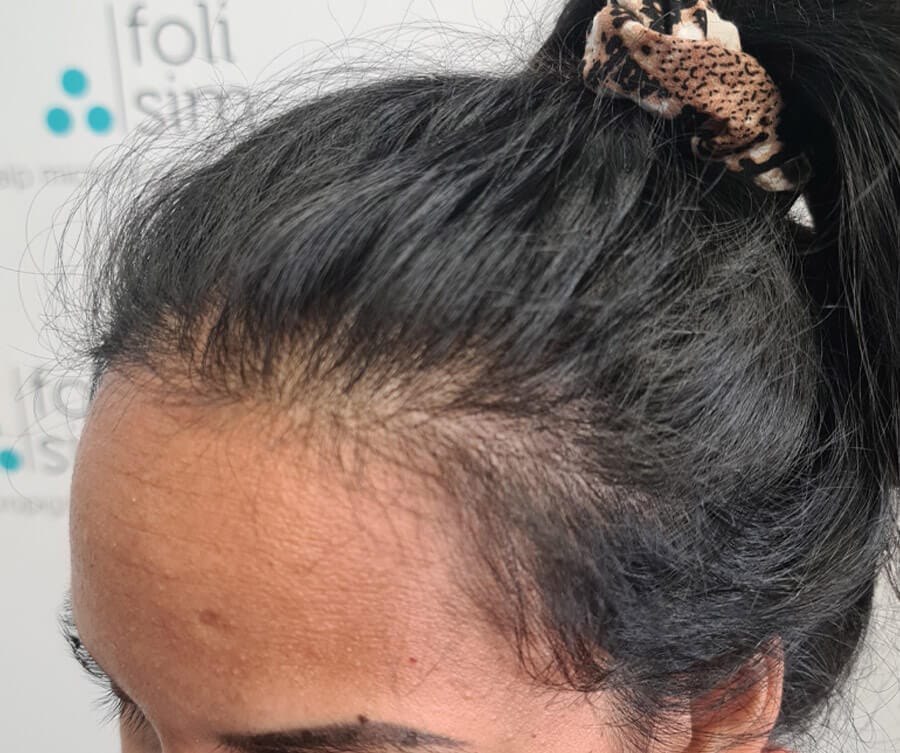 Before & After
SMP for women before and after result
on a satisfied client.
Before & After
SMP for women before and after result
on a satisfied client.
Before & After
SMP for women before and after result
on a satisfied client.
The Scalp Micropigmentation process
Step 2 SMP Treatments
Clients typically need 2-4 sessions with a healing period of 7-14 days between each one. Sessions range from 1 to 3 hours long, and may cause some temporary redness. Your artist will provide aftercare instructions, but you can resume your regular activities. Each session leaves your SMP looking presentable.
Experience Restored Confidence
After your last session, Foli Sim provides a 12-month guarantee that covers any necessary touch-ups free of charge. While the treatment is permanent, touch-ups may be necessary in 3-5 years, particularly if you experience additional hair loss. Meeting our client's needs and providing them the best results is paramount for us. Be sure to check out our incredible testimonials from satisfied clients.
How much does Scalp Micropigmentation cost?
If you've been contemplating Scalp Micropigmentation as a hair loss solution, we understand that it's a significant decision that requires careful consideration. Your hair plays a crucial role in the first impression you make on others, so we appreciate that you've taken the time to research the benefits of SMP versus other options.
One of the most important factors in your decision-making process is the financial aspect, and you may be wondering; 'how much does SMP cost?'. Like many cosmetic procedures, the cost varies depending on several factors, so there's no one-size-fits-all answer. To provide an exact price, we'll need to see you in person. Let us walk you through the factors that will impact the cost of your Scalp Micropigmentation procedure, and give you a personalised quote.
Depending on the degree of hair loss, here is an approximate guide to what you might expect to pay for SMP:
Mild Hair Loss


$500 – $1200
Medium Hair Loss


$1500 – $2200
Advanced Hair Loss


$2200 – $3500
Foli Sim Australia offers a free consultation service from all of our studios. And for your convenience, we also provide phone or video consultations. If you're short on time, you can send us your images via email, WhatsApp, or text, and we'll send you a written quotation. We pride ourselves on offering the best SMP in Australia, so reach out to us to begin your restored hair transformation today!
Payment Plans Available – Learn More