Welcome to Foli Sim Melbourne
At Foli Sim, we specialise in custom scalp micropigmentation in Melbourne to address hair loss, thinning hair, and scarring. Our SMP approach is personalised and tailored, with a focus on precision, and performed by top industry professionals. Experience exceptional results with Foli Sim.
Foli Sim Melbourne is located at our state-of-the-art studio on Flemington Road in North Melbourne. Our Melbourne Scalp Micropigmentation services are led by two highly skilled artists, Kelly Dawes and Jasmine Tintor.
Life Changing Results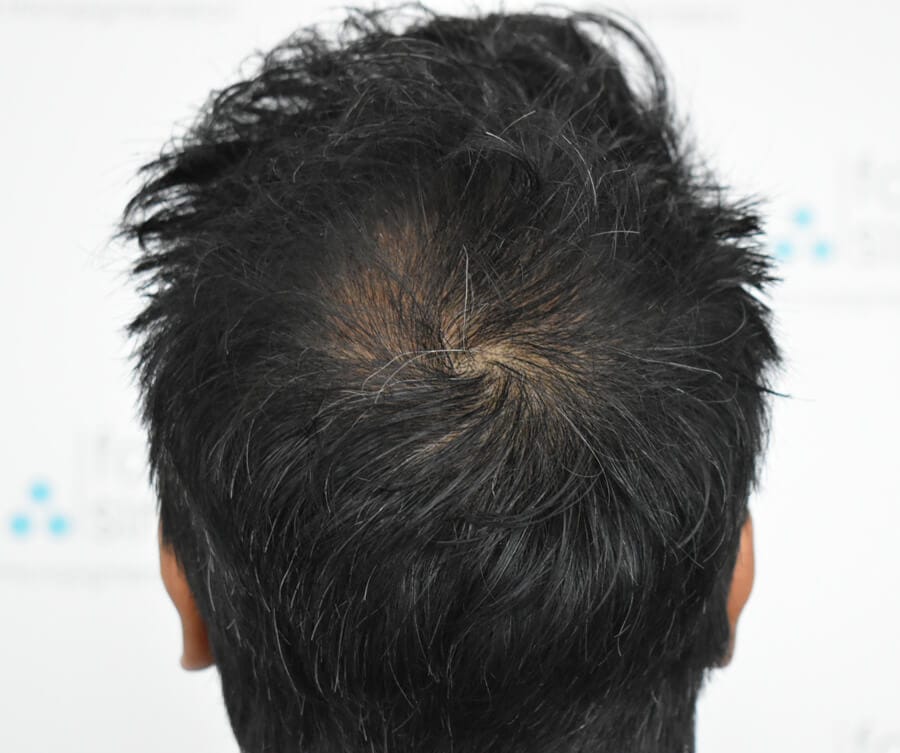 Before & After
SMP for men before and after result
on a satisfied client.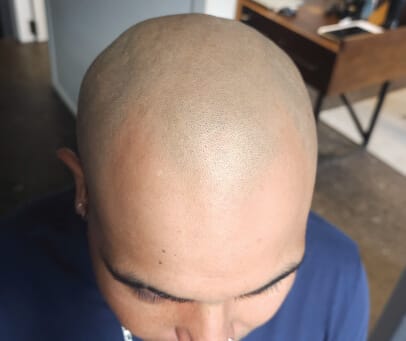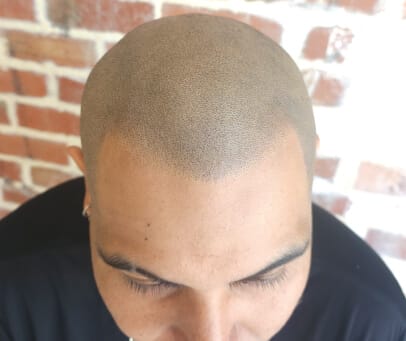 Before & After
SMP for men before and after result
on a satisfied client.
Before & After
SMP for men before and after result
on a satisfied client.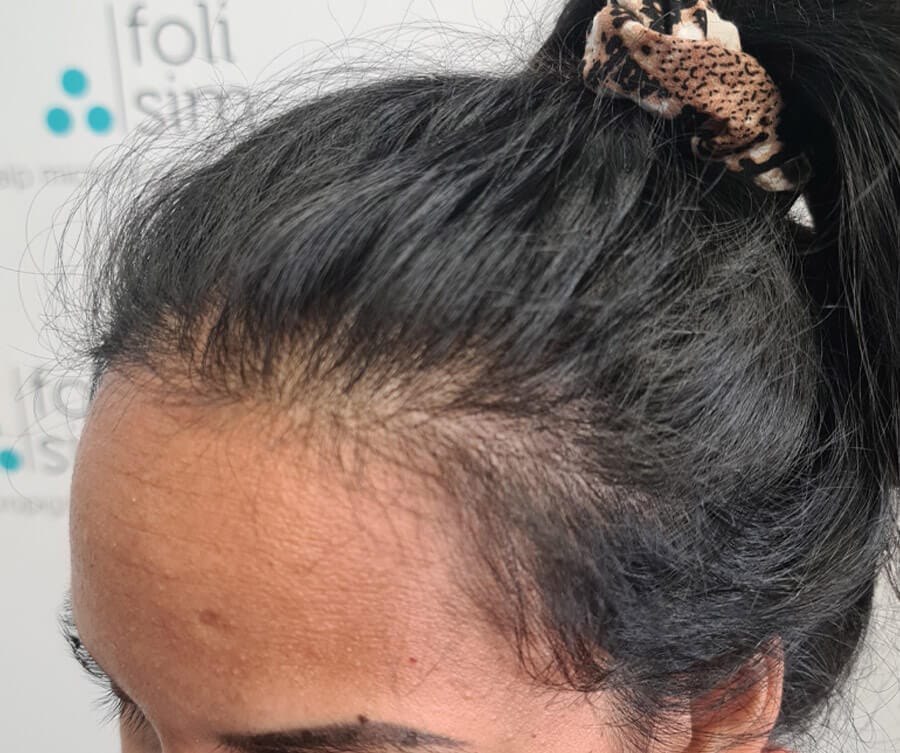 Before & After
SMP for women before and after result
on a satisfied client.
Before & After
SMP for women before and after result
on a satisfied client.
Before & After
SMP for women before and after result
on a satisfied client.
Why Foli Sim?
Providing outstanding scalp micropigmentation (SMP) services since 2011
Our studios are certified and approved by the health department
Our artists have earned international acclaim with multiple awards
All our artists hold industry-standard infection control certifications
Highly-qualified in-clinic trichologist
We use medical-grade equipment and specially formulated SMP pigments
Enjoy a 12-month guarantee on all completed treatments
Experience treatments in private, dedicated rooms
Fully insured
Scalp Micropigmentation Explained
Scalp Micropigmentation (also known as SMP, or hair tattoo) is a cosmetic treatment for hair loss, which involves precise hair tattooing techniques to mimic the effect of hair. SMP involves using microneedles to insert pigment into the scalp to create the appearance of individual hair follicles, which in turn hides baldness, thinning or receding hair, as well as scalp scarring. The result of SMP is a natural, long-lasting, and highly effective solution for those seeking an alternative to hair transplants or other more invasive hair restoration methods. For baldness, a hair tattoo provides a buzzcut look that mimics your natural hairline, and for thinning hair it provides the illusion of more volume.
Book a Free Consultation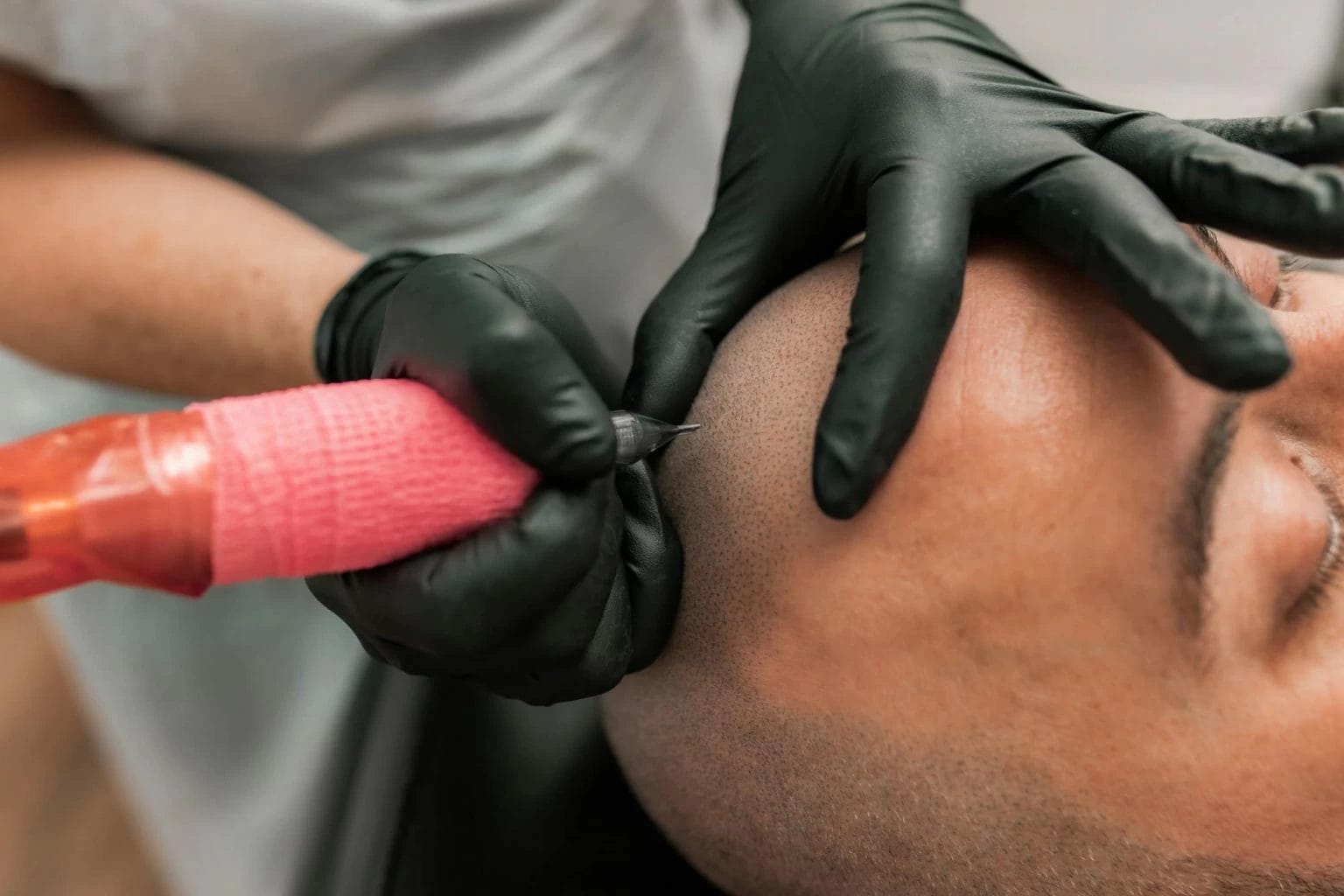 A Revolutionary Approach To Hair Loss
Who Is Eligible For Scalp Micropigmentation?
Hair loss, hair thinning, or a loss of hair volume is a common concern that impacts both men and women, of all ages. No matter what your level of hair loss is, it can be an emotionally impactful experience. SMP is the ideal solution for people experiencing most forms of hair loss, including:
Male pattern baldness
Female pattern baldness
Thinning hair
Alopecia areata
Scalp scarring (including FUE/FUT scarring, strip scarring, plug scarring, alopecia scarring, and accident scarring)
Get to know scalp micropigmentation
What Are Some Of The Advantages Of SMP?
A safer alternative to hair transplants
SMP involves no surgical incisions and requires no medication with possible side effects. It is a treatment that is minimally invasive, has no downtime, and has an easy recovery process. Our highly skilled SMP artists complete all work to the highest of standards – ensuring no risk of scarring, inflection, or other post-procedure complications.
A low-maintenance solution
As SMP uses a tattooing technique, it is a more permanent solution to hair loss and negates the need for donor hair (which isn't viable for everyone). With a hair tattoo, the only maintenance you may require is a touch-up for slight fading, or if there has been further hair loss since the original treatment was completed.
More cost-effective
SMP is a more affordable option than alternative hair loss treatments, with prices starting at $500. Price is determined by your level of hair loss, and whether you require further touch-up sessions in the future due to continued hair loss or fading. At Foli Sim, we offer flexible payment plans to make scalp micropigmentation in Melbourne as accessible as possible.
Book a Free Consultation
What to Look For When Choosing an SMP Practitioner in Melbourne:
Research is important when considering any type of cosmetic procedure, and scalp micropigmentation in Melbourne is no different as it is very technical and requires a great deal of training to perform with excellence.
Here are a few points to keep in mind when selecting the best SMP services in Melbourne:
Positive reputation in the industry: Reputation is important because it lets you know how experienced your practitioner is with the procedure, and how long they have been in business. The best artists don't just hold the necessary credentials, they have trained with the best, have several years of practice on heads of all shapes, sizes, and ethnicities, and have a reputable standing in the industry. Incorporated in 2011, Foli Sim is one of Australia's leading providers of scalp micropigmentation.
Good before and after pictures of clients: The proof is in the picture. Before and after photos are a great indicator of quality. Only the best hair tattoo artists can produce quality and natural results. They must be able to provide you with photos of their work, and even more importantly, they have to be a good fit for you.
Trained artists and a licensed clinic: While they are often compared, cosmetic tattoo artists and tattoo artists are not necessarily qualified to be hair tattoo artists and they shouldn't be confused with one another. The ideal SMP practitioners are registered to perform it, hold certificates from well-known SMP treatment facilities specializing in the art, and have completed the relevant Safety, Hazard, and Infection Control courses for their area. All our artists at Foli Sim have been trained and many have received certifications from leading SMP institutes. Meet the team here.
Hygienic environment: The cleanliness of your clinic is important because you want to make sure that your skin is being treated with high-quality products and tools. A reputable clinic will have sterilized instruments, single-use needles, gloves, and equipment. You should also look for well-lit rooms with good ventilation. All Foli Sim studios are approved by local authorities / Health Departments.
Get To Know Your SMP Melbourne Artists
Kelly Dawes


SMP Artist

Kelly Dawes boasts an impressive resume. She completed her Master SMP course at the esteemed Brandwood Clinic in the UK and trained with Scalp Micro USA's founder and CEO Matt Lulo. Combined with her stellar customer service, it's no surprise that she was nominated for Best International Artist at both the 2019 and 2020 Team Micro Meeting of the Minds SMP Conference in the UK.
Jasmine Tintor


SMP Artist

Jasmine started her career in the hair industry as a hairdresser running her own successful business. With a passion for helping people and a desire to learn more, Jasmine went on to study scalp micropigmentation (SMP) in Melbourne. After successfully completing her fundamental training course, Jasmine joined the Foli Sim team in 2023 and has worked alongside Kate and Kelly delivering outstanding results for her clients.
Why Choose Foli Sim Melbourne?
Scalp Micropigmentation (SMP) is a highly personal procedure that requires a high level of trust between the client and the practitioner. Foli Sim, established in 2011, is one of Australia's leading SMP providers with a positive reputation in the industry. Our trained Melbourne artists, Kelly Dawes and Jasmine Tintor, are certified by leading SMP institutes and have several years of experience working on heads of all shapes, sizes, and ethnicities. They produce quality and natural results that can be seen in our before and after photos. Our clinics are licensed, hygienic, and adhere to the highest standards of safety and hygiene with sterilised instruments, single-use needles, and a clean and well-lit environment. You can rest assured that your skin will be treated with high-quality products and tools.
Book A Free, No-Obligation Consultation With Foli Sim Melbourne
Book a free, confidential, and obligation-free phone, video, or in-person consultation with Foli Sim. In light of the current global health crisis, we are proud to offer virtual consultations from the comfort of your home. Our friendly SMP Melbourne artists will discuss the process, recommended number of sessions, desired results, and pricing with you during a Zoom or phone call. Take advantage of this opportunity to ask any questions and feel confident in your decision-making process. Simply book your virtual consultation below and we will confirm your appointment within 24 hours.
Affordable SMP Services With Interest-Free Financing
At Foli Sim, we believe everyone should have access to scalp micropigmentation services, which is why we offer competitive pricing and interest-free financing options through our partner ZipMoney. Learn more about our payment plans by contacting us on 1300 668 490 or via our Contact Us page.
Book a Free Consultation