The World's Most Rapidly Growing Solution To Hair Loss
Scalp Micropigmentation (SMP), commonly known as hair tattooing, is a non-invasive and non-surgical solution for men who are experiencing hair loss. It involves a cosmetic tattooing technique that uses specialised needles to apply small dots of pigment to the scalp, replicating the appearance of hair follicles. SMP can restore receding hairlines, add density to thinning hair, and camouflage scalp scarring.
Dealing with hair loss and male pattern baldness can cause a blow to your confidence, and trying various unsuccessful solutions can result in wasted time and money. However, with scalp micropigmentation, there is little to no need for continued maintenance or lifestyle restrictions, allowing you to enjoy life with renewed confidence.
Complimentary Video/Phone Consultation
At Foli Sim, our experienced SMP Artists are available for free video or phone consultations to help you determine if the SMP treatment is the right choice for you, all from the comfort of your home. We understand that everyone has a unique schedule, and our flexible consultations make it easier than ever to get introduced to SMP.
During your private consultation, we will walk you through the scalp micropigmentation process, recommend the number of sessions required to achieve your desired result, and provide you with a tailored quote based on your individual wants and needs.
Book a Free Consultation
Life Changing Results
Before & After
On a bald head, a hair tattoo restores the appearance of a full head of hair.
Before & After
SMP by Foli Sim can reduce the appearance of thinning hair.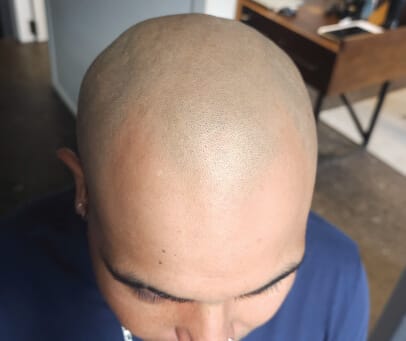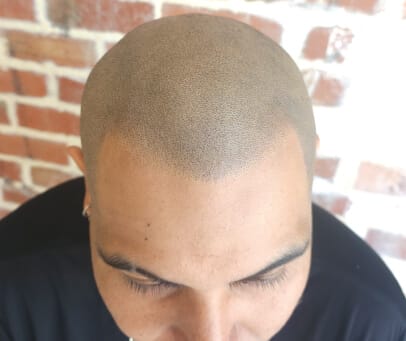 Before & After
Scalp micropigmentation can recreate a natural looking hairline.
Hear What Our Happy Clients Have To Say
Listen to what our satisfied clients have to say about their experience receiving scalp micropigmentation with Foli Sim.
Why Hair Tattooing?
Hair loss can be a distressing experience for men, regardless of age.
Hair loss not only impacts confidence but also leads to wasted time and money on unsuccessful solutions. One of the greatest benefits of a hair tattoo is that unlike hair transplants, it is non-invasive, non-surgical, and requires minimal maintenance or lifestyle restrictions.
Our skilled artists at Foli Sim ensure natural-looking results by matching the pigment and treatment to your existing hair and skin tone. Additionally, we provide a 12-month guarantee on all completed procedures, offering free touch-ups if needed during this period.
With studio locations in Perth, Sydney, and Melbourne, all Health Department Certified, and operated by highly skilled artists in the SMP industry, Foli Sim is your trusted choice for scalp micropigmentation in Australia.
Flexible Payment Options
In addition to our expert SMP services, we also offer the convenience of six months interest-free finance through our trusted finance partners, ZipMoney. This makes hair tattooing an even more accessible solution for your hair loss concerns. To learn more about our Payment Plans, or to speak with one of our friendly team members, please contact us.